The Symbol of the Chain of Lights
The Phenomenon Bruno Gröning – How a film can give hope of help and healing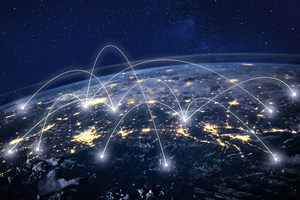 Bruno Gröning (1906 – 1959), who became known as a "Miracle Healer", is the subject of this spectacular documentary film. As of January 19, the film will be shown for 3 weeks – in over 800 showings world-wide. At the same time, this extraordinary film will be available in its entirety in 33 languages on the YouTube Channel of the Bruno Gröning Circle of Friends.
Bruno Gröning imparted a positive energy which he also referred to as "Divine Power'' or Heilstrom. Innumerable numbers of people, both during his lifetime and since his passing, have experienced help and healing through taking in this life force.
This natural healing force can flow to you already during the viewing of the film. Use the possibility to spread the absorbed energy to other people afterward – in the form of positive thoughts, a friendly word, or a good deed.
Thus you, too, can be a light in the chain of lights which goes around the globe – together with thousands of others who open their hearts to the divine power in the hope or knowledge that help and healing exists, even in apparently hopeless situations.
"There is much which cannot be explained, but nothing which cannot happen." Bruno Gröning

Website Bruno Gröning Circle of Friends - Documentary Films