Healing from pain and knee arthritis after 12 years
Erika Schwarz (60), Steyr (Austria)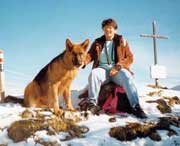 At 40 years of age I began to have constant pain in both knees while lying down, sitting, walking, climbing stairs. It got worse as years went by. My knees were swollen, hot and painful to touch.
I was in constant pain
My physician diagnosed arthritis of the knee joints, but even an operation in January 1994 brought no improvement, on the contrary, it kept getting worse. The only possibility was for me to get a knee replacement; I was too young for that he said. I kept having severe pain in spite of constantly taking pain killers. I could only sleep with a pillow between my knees and often woke up from turning around. Both knees hurt all the time, lying down, sitting and especially when walking. And they were constantly swollen. I needed two canes for walking and could only manage short distances with great pain.
Early retirement
I could no longer practice my profession as a nurse on the newborn ward. As I walked, my knee would sometimes suddenly give way and I collapsed. After one year of sick leave, I was dismissed, and, unemployed, got early retirement in January 1995.
A miracle happens
I found a flyer about healing the spiritual way in my mailbox. During my introduction in May 1998, in spite of pain killers, the pain in both knees got worse than ever before. During the following months, these Regelungen pains kept recurring, which, however, I accepted as such. From September on, it started to improve and in October I was free of pain and could sleep all night without any pills for the first time.
Skiing without pain
My knees became mobile and pain free again. I can get up and nothing hurts any more. Since January 1999, I go skiing again and even started training with weights at the fitness center regularly. After a 50km long cycling tour in the spring of 1999, my muscles weren't even sore the next day. Surfing and mountain hiking are also possible again.
Medical commentary:
Medically speaking, the course of bilateral 3.degree (worst degree) arthritis of the knee described above, worsening over 16 years, and the complaints suddenly disappearing followed by permanent relief of pain, cannot be explained. From a medical scientific standpoint, bilateral knee replacement would have been the only way to provide permanent relief.
F. G., Physician