Healing from chronic back pain and headache
Lidija Grigoryevna Michel (55), Koktschetaw (Kasachstan)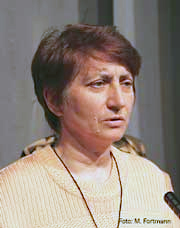 In the year 1976, at the age of 25, I got severe back pain. The cause was probably the hard physical work on a construction site. At the time I had to carry wet cement mixtures for enclosures for a few days. For me as a woman that was a difficult task.
The pain radiates outward
Then one day I even had to call the emergency doctor. He had me admitted to hospital. The doctors there diagnosed an osteochondrosis of the entire spine. I had severe pain in the cervical-, thoracic- and lumbar spine and in every body part. I was given Diclofenac and various shots, as well as a tranquillizer. Depending on where the pain was the strongest - in the upper or lower back - I had in addition either headache or I could walk only with difficulty, sometimes not at all.
Moreover, my fingers and shoulders on both sides, as well as my feet and calves felt numb. Then I also had noises in both ears. It was like the roaring of the wind or the sea. These noises were not further treated because they said they were caused by the the spinal problems. I also became increasingly sensitive to draughts.
Sometimes it was unbearable
After a month I was dismissed from the hospital. At home I continued to take strong medication. At first this helped me and at least alleviated the pain. I regularly took three tablets a day for over 22 years until 1998. I was no longer able to handle the house- or garden work by myself, so my mother, my husband and later the children helped me. I spent a lot of time in bed, as the pain was simply too severe.
Around twice a year the pain was so intense that I even had to go to the hospital. I also had to spend several weeks every year on sick leave because I couldn't work.
At the time when I was introduced to the teachings of Bruno Gröning I had already stopped going to the doctor any more two or three years before. I was tired of all the treatments, since they were not successful for me. But I went on taking the medication. I had already been my own doctor for a long time and knew what was good for my body or not. I adjusted myself to that. When there were difficulties, I cried a lot, and I suffered a lot from my ailment.
Completely well in two years
I got introduced in July, 1998. I gradually stopped taking the medication, and healing slowly took place. After about two years, in the year 2000, it came to the point where I felt completely well.
One day I thought, "You don't have any back pain any more; you have no ear noises nor any headache any more!" From that day on I started to gradually work more and take over more of the housework. I would keep watching myself. In this way I noticed that I was gradually able to handle my housework more easily again. I gradually came to the conclusion that I didn't need my family's help for these tasks any more. I was also completely free from numbness in my arms and legs.
Therefore since the year 2000 I have been able to work full time again, do my housework independently and even dig up the garden. Since then I have required no more medication, nor any kind of treatments or visits to the doctor. I need no herbal treatments or the like any more. The ear noises are also gone. I am no longer overly sensitive to draughts and find it wonderful when the wind caresses me in this way.
Medical commentary:
Mrs. Michel suffered for 26 years from problems related to wear and tear of the spine which radiated into the extremities and the head. Although at first sceptical, after her introduction in 1998 to the teachings of Bruno Gröning she was able to accept her severe problems as Regelungen* and stop all medication. Two years later she noticed that the pain in her back and head had disappeared. Her doctor confirmed that the signs of osteochondrosis had disappeared, and that she had accepted no more treatment since 1997.
Problems related to wear and tear can in the rule only be alleviated through medication and physical treatments, but a complete healing such as is the case here is medically unusual.