Healing from cardiac insufficiency
Alexander Bauer (48), Munich (Germany)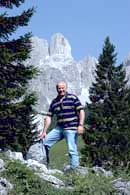 From the beginning of 2002 on, my health declined steadily. After a few hours' work I had to lie down. In the evening I was completely exhausted. My performance decreased more and more. The fatigue and weakness grew worse and worse. When it didn't change even after an extended vacation, I went to the doctor. In May, 2002 I was declared unfit for work.
Diagnosis: cardiac insufficiency
My subjective complaints consisted mainly of a feeling of pressure on the left side of my chest, fatigue, tiredness and shortness of breath with the slightest effort. With an ECG my family doctor found changes and my cardiologist explained to me after an examination that my cardiac performance had clearly decreased. He diagnosed of cardiac insufficiency, possibly as a result of a cardiac infarction that I hadn't noticed. I was given a heart-strengthening medication, (Ramipril) however, it provided no perceptible relief from the complaint.
Strangers plead for me
On Monday, September 16, 2002 I felt unusually bad. The next morning I got up and felt surprisingly well. During the morning I began to take care of some paperwork and was quite amazed when I felt capable of working the whole day long and was able to take care of things that had piled up for months. To my great astonishment I was able to climb stairs again without shortness of breath or a feeling of tightness in my chest and was more capable of physical exertion.
On Thursday evening I called a friend in Paffenhofen. After I had told her how well I felt she told me of Bruno Gröning and that friends had specially tuned in (Einstellen) for me the previous Monday (!) in the community hour of the Circle of Friends.
Back to my professional life full of energy
The time connection between the Einstellen and the condition of my health on the following day was very impressive to me. I was introduced to the teachings of Bruno Gröning on the following Wednesday, September 25, 2002. Since that time I have been attending the community hours and conferences and do Einstellen regularly to the Heilstrom. Since my healing I feel well and strong again. All of my complaints belong to the past. I have started working again. Today I carry out a number of volunteer tasks for the Bruno Gröning Circle of Friends and am amazed at all that I am able to accomplish.
Through an echocardiography carried out by a specialist it was determined on January 29, 2003 that my cardiac performance was completely normal. The specialist wasn't able to establish a connection between the complete disappearance of the complaints from one day to the next and the therapy that I had undergone. She had no explanation for it.
Medical commentary:
The cardiac echocardiogram (ultrasonic examination) of June 2002 indicated a definite lessening of the cardiac ejection performance (ejection fraction) to 40% (normal is greater than 50%) for Mr. Bauer. The doctors attributed the cardiac muscle weakness to a cardiac infarction that had not been noticed by Mr. Bauer. The spontaneous disappearance of the symptoms of the illness from one day to the next is, for me, inexplicable from a medical point of view and can only be explained through the absorption of the Heilstrom. The fact that this healing occurred without his knowledge makes this report especially valuable. The recovery of his performance capability is documented in the echocardiograph of January, 2003. It shows a normal ejection performance once again.
M. K., M. D.