20 Years of the film documentary "The Bruno Gröning phenomenon"
A particularly heart stirring film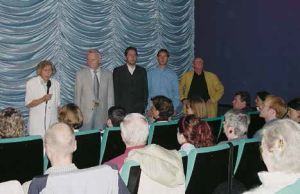 It started on 3rd October 2003: The documentary film "The Bruno Gröning phenomenon" had its premiere in the Toni cinema in Berlin-Weissensee and at the same time also started in the Maxim cinema in Munich. Later on the film was shown in more and more cinemas – at first in German speaking regions, later also wider. In the meantime the film has been running successfully worldwide now for 20 years. Up to today about 330 000 spectators in 100 countries have seen this special film about the events around Bruno Gröning.
An historical document of the time
"The Bruno Gröning phenomenon" depicts the dramatic events of that time and follows in the footsteps of this extraordinary man. For this, 70 hours of film material were taken, over 80 contemporary witnesses interviewed, newsreel reports, original documents and extracts from TV transmissions were compiled and elaborate film scenes with over 2000 extras made. From this emerged a 5 hour documentary in three parts. The film painstakingly researched and taking 9 years to complete, provides deep insights into the life and work of Bruno Gröning. With many spectators the film leaves a lasting impression. Birgit K from Lübeck writes for instance "I was very impressed by the film's excellent historical research, impressive contemporary witness reports – an invaluable film documentary…"
A giver of power and healing
This film, however, is more than a retrospective documentary. Many spectators report that when looking at the film they suddenly experienced a power, a tingling, a streaming in their body. For most of them this was a completely new experience. M. Sch. from Luhden (Germany) writes; "I felt a tingling in my body, goose flesh hot and cold. The film moved me. I had not heard anything about Bruno Gröning before and therefore was a bit sceptical. It was good decision to drive across to Detmold today to see this film." There were even some reports of disappearance of pain, disability and other afflictions. For example, J.F. from Guildford in Australia: "It felt as if I was between heaven and earth, all the pain in my back disappeared." How is that possible? Gröning died in 1959 and the hype around him is long since gone. Yet apparently the power working through Bruno Gröning at the time can also be experienced by looking at the film. The facts speak for themselves: healing from cancer, Angina Pectoris, rheumatism, osteoporosis, but also from drug dependency and other addictions. There are now more than 60 healings from looking at the film alone documented by doctors. Such healings and other stories concerning the documentary film are being followed up by the director for its 10 year jubileum.