Peace Award
The World Peace Prayer Society (WPPS) honored the more than 30 years of dedication of the Bruno Gröning Circle of Friends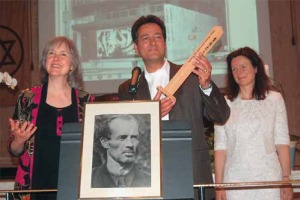 New York City. Members of the United Nations affiliated Organization World Peace Prayer Society (WPPS) honoured the Bruno Gröning Circle of Friends with the Peace Pole Award on May 23, 2013. The presentation ceremony took place in the ecumenical Tillmann Chapel of the United Nations at the invitation of the United Nations Staff Recreation Councils (UNSRC) SaluS.
In her remarks, UN representative of the WPPS, Deborah Moldow, highlighted the significance of the Bruno Gröning Circle of Friends and the teaching of Bruno Gröning with respect to help and healing on the spiritual path. Healing the individual relates to peace for the entire humanity. She expressed gratitude for the altruistic work over 30 years of the Circle of Friends. Referring to the physical appearance of the peace pole, she added, "It links Heaven and Earth with a prayer for peace." The worldwide Peace Pole Project was started by Masahisa Goi (1916-1980), who, following the events in Hiroshima, dedicated his life to world peace. It is the goal of this non-governmental organization to bring all peoples of earth together through the message, "May Peace Prevail on Earth." The WPPS advocates a world in which all cultures and customs, religions, ethnic groups, and ways of life are equally respected. Former recipients of Peace Poles include Nobel Peace Prize winners Mother Theresa and the Dalai Lama, and also Pope John Paul II.
During the event, a film excerpt illustrating the life of Bruno Gröning and the worldwide work of the Circle of Friends was shown. Bruno Gröning (1906-1959) became known worldwide in the 1950s through remarkable healings which occurred thanks to the absorption of the life force, which he called Heilstrom. Even during his lifetime, Bruno Gröning described how the human being, through his own efforts, could become happy and healthy again, and accordingly amazing healings still occur today, even of physical and mental illnesses which are considered to be incurable. The Bruno Gröning Circle of Friends is the largest organization worldwide dedicated to healing on the spiritual path and informs those who are interested how everyone can absorb this force and use it for his/her health.
Dieter Häusler, leader of the Circle of Friends, was handed the Peace Pole by UN representative Deborah Moldow. As representative of the entire Circle of Friends, he spoke these words: "This award signifies the recognition of the life work of Bruno Gröning, and at the same time all of the Bruno Gröning friends worldwide who carry the message of peace, love, and harmony, as well as the possibility of healing on the spiritual path." He spoke about the peaceful cooperation of friends in Ireland and Northern Ireland, as well as the unusual friendships between Greek and Turkish people and how the communities in Palestine are supported by the friends from Israel, demonstrating the possibility of the phrase, "May peace prevail on Earth."