Healing of pain from hip arthritis and chronic headaches of over 15 years' duration
Shakila Premcharan (52), Suriname/South America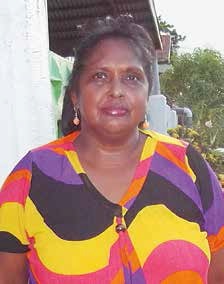 Since 1995, I had had continual pain in my pelvis and hips, running downward from my waist. I would go to bed with this pain and get up with it. My family doctor treated me with medication and injections. Since there was no relief, transfer to a hospital ensued. Analysis of the examinations such as x-ray, ultrasound, and laboratory tests yielded the diagnosis of arthritis. Every two weeks I had to go to a therapist for massage. Since this brought no relief, I discontinued the therapy after four months. The medication, too, contributed little to improvement, and the pain was still there.
No hope of healing
In addition, headaches had tormented me for 15 years. They were severe, especially after sleepless nights. The treatment consisted of the medication Paracoff.
When the effect wore off, the pain would return. I tired quickly and housekeeping was difficult for me. I had to rest a lot and also was unable to sit for long. During my work as a cleaning woman, I was often dependent on the help of fellow workers. I never left the house without taking my medication along. When I visited someone, they were always considerate of me. I would be offered a rocking chair or a hammock. In Suriname almost everyone has these things in the house. During parties, too, I was always able to lie down somewhere for a short time. I made an effort to do most of my own shopping. Otherwise my friend or someone else would do it. The thought that I would have to suffer from pain all my life made me very unhappy. I worried about my health and brooded a lot. That was my situation a year before my introduction.
The community leader in Nickerie, Suriname, told me of the teaching of Bruno Gröning, to which I was introduced on July 26, 2011.
Well again in one week after 15 years of pain
Since then I have been doing einstellen daily. After the introduction I had Regelungen for a week in the form of fever, a cold, and coughing. I had also stopped taking Paracoff a day after the introduction because the headache pain had disappeared. That impressed me a lot, and since then I have no longer needed this medication. The pain in my pelvis and hips had also disappeared after the Regelungen. Therefore I discontinued taking all painkillers.
I am now full of energy, no longer tire quickly, and can do my housekeeping without problems. At work, my fellow workers no longer have to help me because I can do everything again myself. I sleep well at night and can be busy all day long without having to lie down. I do all the shopping myself. I no longer need a rocking chair or hammock on visits any more, and no longer have to rest during parties. I no longer have to take medication along in my pocket.
My life suddenly changed. I can hardly express my feelings in words. I am grateful for the healing and that I can be happy again.
Medical commentary:
That such severe pain in pelvis and hips with a diagnosis of hip joint arthritis, and headaches of many years' duration should so quickly disappear is inexplicable according to my medical experience. Further continuation of the complaints would have been expected in view of the long course of the ailment.
F. H., Physician