Healing after 58 years of stuttering and 25 years of chronic bronchitis
Dorofej E. K. (78), Gatchina, St. Petersburg (Russia)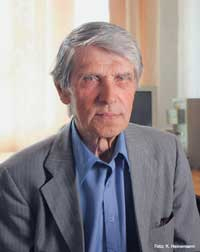 I suffered from acute respiratory ailments for over 25 years - bronchitis, a tormenting cough, and colds. When I was examined at the Tuberculosis Care Center the doctors diagnosed chronic obstructive bronchitis. It was especially bad for me in the spring and in the autumn, but also when it got colder. The attacks were triggered by standing too long at the bus stop, wet feet, draughts, etc.
Besides the various pills and mixtures that I took, they also prescribed inhalations, physical therapy, cupping and physiotherapy. The doctors advised me to quit smoking and to take care not to get colds. The therapeutic measures brought me some relief, but the help lasted only a short time. In my misery I turned to self-treatment with medicinal herbs and mud treatments. I switched to the Hay diet nutritionally, but without achieving the desired improvement.
The stuttering was stress related
At 10 years of age I started to stutter after a stressful situation. I couldn't even pronounce my own name. I was always last in examinations and had great difficulty communicating with the teacher. I knew that the doctor couldn't help me. My mother, my brother and his daughter also stuttered. My son also stutters slightly. This stuttering was a heavy burden in my life and had a great emotional effect on me.
I learned of Bruno Gröning on the street
By chance I heard two women on the street conversing about Bruno Gröning. I was astounded that everything was free of charge there. I was introduced to the teaching of Bruno Gröning in February of 1997. I didn't perceive anything. It was very difficult for me to believe in the holy power, since I was a hundred percent atheist. I wanted to understand everything with my intellect and not with my heart.
Free after decades
I went regularly to the community hours and wanted to convince myself of the unknown power. I also did einstellen regularly twice a day. The effect wasn't long in coming. Immediately after the introduction both ailments had noticeably improved, and since early 1999 I have been continually well. Two decades of chronic bronchitis and almost six decades of stuttering are now a thing of the past for years.
As a hundred percent atheist I had never before believed that such a thing was possible in our times. It is an entirely different life after illnesses that had been regarded for decades as "normal" have simply disappeared.
Today I can speak completely normally, am happy, full of the joy of life and very talkative. To be able to simply talk unhindered without shame - I think that only someone who hasn't been able to do that for decades can imagine what it's like. Nor am I afraid of rainy weather any more. When my feet get wet, I no longer get sick. I am no longer concerned about draughts at all.
Doctor's Commentary:
The complete healing from the two above-mentioned chronic illnesses after decades is from a doctor's point of view very impressive and is inexplicable from a medical standpoint.