"His Word Banishes Illness"
The healings continued, despite the healing ban and court trial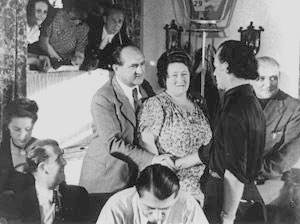 Physical recovery and inner transformation
The work of Bruno Gröning continued during these disputes and battles. In 1957, medical specialist journalist Dr. Horst Mann reported the following, among other things, in a series of articles in Das Neue Blatt (a magazine) under the title "His Word Banished Illness":
"The next morning I drove from Hamelin to Springe, the little town on the river Deister. A Gröning community had also established itself here. The healings of a number of people had been the starting point for this. And here I experienced it yet again, as I had done so in various parts of Schleswig-Holstein, in Augsburg, Hamelin, Vienna, Plochingen and in other towns. People stood up and told me of their illnesses. They named the doctors who had been treating them. They told of their return to health, that they had Gröning to thank. And in every case, they were willing to raise their hands and swear to this under oath.
'Already as a baby I had dislocated hip joints on both sides," explained the 50-year-old Julie Prohnert from Hannover. "Later I could only walk using crutches. The doctor could only ease the suffering. When I was listening to a lecture by Mr. Gröning, I experienced a strong reaction. My back, which had been totally bent, straightened up again. I could walk again. I have had no relapse…'
'I had rheumatism in my joints and was continually tormented by eruptions and abscesses. Mr. Gröning freed me,' said Wilhelm Gabbert of Hamelin.
'I could only tolerate my gall bladder problem by taking morphine,' reported Kurt Severit of Evestorf. 'I give thanks to Bruno Gröning for relieving me of this suffering.'
'I had severe diabetes,' stated Robert Thies of Springe. 'More threatening was a weak heart muscle. Both of these troubles no longer affect me today. I have Bruno Gröning to thank for this.'
There was a string of such examples. The people who told me their stories were of all ages, men, women and children. Many illnesses were listed, from headaches to nerve inflammation, sciatic problems, kidney and gall-bladder complaints, to heart disturbances and paralysis.
But there was something else that affected me deeply. With great openness and in front of all those listening, many people told how they had experienced an inner change through Gröning. Their constant drive for success and purely self-centered attitude had given way to an inner calm and peace and a community-oriented way of thinking."
The person's faith is what makes healing success possible for everyone
Dr. Horst Mann explained, "As a result of all these conversations with people who felt they had been healed by Bruno Gröning, one question arose increasingly strongly in me. Was healing possible for all people, or, to put it much more boldly, for all diseases? What are the limits of this energy, which radiated out from Gröning? Were there not dangers here? […]
On my last visit I put this question to him. 'I cannot and do not want to force anybody,' he told me. 'If someone closes themselves and is not prepared to open themselves to the energy which will bring order, then I myself am not in a position to intrude. All I do is challenge these people to burst the fetters of the evil that prevent well being and health.'
I had another question. 'Every disease has a different degree of danger,' I said. 'What if a seriously ill person who has been abandoned by several doctors allows a doctor who is still prepared to fight for his patient, to call you on his behalf? Would you be able to help?'
'Yes.' Grönings reply came without hesitation. 'If the patient has belief, and if the doctor trusts the path he has taken, success will not be absent. Their joint belief will develop unimagined powers in the patient. Most often, the success occurred most quickly at the precise moment when the despairing person was grasping at the last straw.'"