The great trial (1955-1957)
Indictment on charges of negligent homicide and acquittal with absolute healing prohibition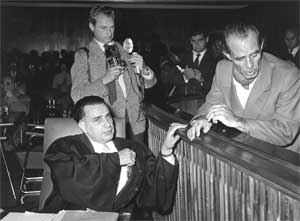 On March 4, 1955, the State Prosecution again brought charges against Bruno Gröning. Once again, he was accused of contravening the Non-Medical Practitioners Act . In an additional charge, he was accused of negligent homicide.
Gröning denies promising healing and prohibiting medical treatment
After he had been served with the summons, he turned to his friends. "My dear friends! In recent days the entire press and radio has reported in a more or less biased form that the State Prosecution Service II of Munich has prepared a case against me for causing death by negligence. I am supposed to have promised healing to a seventeen-year-old girl at the end of 1949, and of having hindered her from visiting a sanatorium and a doctor. Apparently, I am responsible for the death of this young person. Whoever has read or heard these reports with a clear mind will have recognized their purpose: to produce confusion among my friends and to prevent all those seeking help from concerning themselves closely with the knowledge I have disseminated, and all our efforts. All means are being used to hamper my activities, as well as those of the Gröning Association, and even yourselves. Of course, the fact is that things are different from how they are being portrayed! My friends, I don't need to explain anything here. You know that I make no promises of healing, and that I never advise against medical treatment."
Unusually late re-opening of the investigation
Gröning continues to his friends, "I was cleared of charges in 1952. Isn't it curious that the 'Kuhfuss Case,' which arose at the end of 1949, the beginning of 1950, was not rolled out in the court case of 1951-1952? Although all the documents were already prepared, and lay before the court. Isn't it striking that a new case was launched against me exactly at the time when it was made public on November 22, 1953 in Murnau, that the Gröning Association had been founded! Truth is, since January, 1954, a large number of regional group leaders and friends, and also members of the Association have been interviewed and kept under observation by the police."
Witnesses for the defense rejected, witnesses for the prosecution welcomed
The preparations for the proceedings took over years. Bruno Gröning's defense was hampered considerably. Virtually all witnesses who could give testimony to his advantage were rejected; the prosecution witnesses on the other hand, were accepted. Among these were two previous associates of Gröning, Eugen Enderlin and Otto Meckelburg. Meckelburg in particular – he had been jointly accused in the first court case – turned against Gröning in a conspicuously severe fashion. He did everything in his power to harm him. He played a particularly important role in the matter of causing death by negligence. It involved a situation which occurred during his time as Gröning's "manager".
The manipulated case of Ruth Kuhfuss
In November 1949, Emil Kuhfuss, an official of the Sparkasse (a bank,) came to a lecture given by Gröning, with his seventeen-year-old daughter Ruth, who was suffering from tuberculosis in both lungs. Gröning recognized immediately that the girl was beyond help and expressed this to a doctor who was present at the time. Meckelburg, however, strongly pressured him and demanded he take up the case. As a result, after the lecture, a face-to-face meeting between Bruno Gröning and Ruth Kuhfuss took place. Gröning told the girl to have courage and advised the father to arrange for a medical specialist to carry out an examination in nine days. He thereby intended for the girl, who didn't want anything more to do with doctors, to be back under medical care. The father promised to concern himself with this.
The correspondence that took place in the subsequent period was handled by Meckelburg and never reached Bruno Gröning. He next heard of Ruth Kuhfuss in May, 1950. The father, in the meantime, had sent pleading letters to Gröning imploring him to visit. Meckelburg never passed these letters on, but of his own volition, and without Gröning's knowledge, agreed to a meeting with Mr. Kuhfuss. Only shortly before the date for the meeting did Meckelburg inform Gröning, and compel him to accompany him to the meeting.
Meckelburg later stated that Bruno Gröning had promised to heal the girl. In fact, it was Meckelburg himself who had assured the father that he would persuade Gröning to heal his daughter. Meckelburg saw in the bank official a source of income that he wanted to tap into, and to do this he needed Gröning. Shortly after the visit, Gröning parted ways with Meckelburg.
A serious allegation made against Gröning was that he had forbidden Ruth Kuhfuss to seek further medical treatment. On the contrary, the fact was, and this was even confirmed by witnesses for the prosecution, that even at the first meeting, he had sent the girl to a doctor. As well, in a radio interview in Autumn, 1949, he appealed to the people "to continue with medical check-ups right until the end." He continually advised those who came seeking help to trust their doctors.
Ruth Kuhfuss, who had already undergone several unsuccessful and painful forms of therapy, refused to accept any further treatment. She died as a result of the disease on December 30, 1950.
Medical expertise confirms no hope of healing
From the medical point of view, Dr. Otto Freihofer shed light on the matter in his statement on the case of Ruth Kuhfuss as an expert witness. "When soberly observed, even the non-professional would have to come to the conclusion, as indeed it was expressed by the Säckingen Health Authority, that in light of the 'very serious condition,' which were, according to the doctors' findings, 'life threatening' or 'critical,' a healing was, according to normal human expectations, out of the question, just as every right-thinking and sine ira et studio doctor who, while having the latest medicine at his disposal, was not too conceited to believe that he could dispense with the power of nature, would have to agree with the opinion of the expert testimony of Prof. Lydtin of Munich, which stated that 'it cannot be said that prior to November 5, 1949, there was much chance of a cure. In my opinion, it is more than astounding that the patient survived up until December 30, 1950, and it could well be that Gröning's influence had in fact given a certain degree of extension to her life. In concluding my expert testimony, I would like to summarize that the claims that 'chances of healing were taking place,' and 'that the life of the patient Kuhfuss could have been extended had Mr Gröning never been near her,' could neither be made with any certainty, nor are they justifiable.'"
Unsuccessful court verdict
At the end of July, 1957, the jury at the Munich regional court came to a decision. On the point of negligent homicide, Bruno Gröning was acquitted. In the case of violation of the Non-medical Practitioners Act however, a fine of 2000 DM was imposed.
Although at first glance the decision appeared positive, it was unacceptable to Gröning. It was effectively a final prohibition of his work. Through an error of judgment on the part of his solicitor, who assessed the decision far more positively than Gröning, it was not he, but the state prosecutor who filed for an appeal of the judgment. The second hearing took place in mid-January, 1958, once again in Munich.