Career and decisive stations in his life
Preparation for his later activities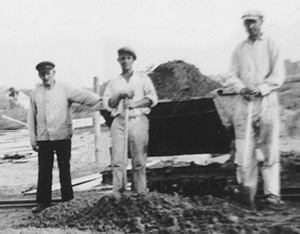 Compulsory and discontinued apprenticeships
After going to school until the fifth grade, Bruno Gröning started a business apprenticeship. He had to give this up after two and a half years, due to pressure from his father, a bricklayer foreman, who wanted his son to learn a trade. He apprenticed to become a carpenter, but this apprenticeship was also never completed. The business turmoil of the post-war period prevented this. Three months before the end of his apprenticeship, the firm at which he was apprenticed closed, due to lack of orders. In the ensuing period, he earned a living at various jobs. Regarding this period Egon Arthur Schmidt wrote:
"He was a success at any work he turned his hand to."
"Various workmates of his told me that a noticeable feature was that whatever he turned his hand to, he was able to do, whether it was repairing clocks or radios, or whether he was working as a locksmith. He was especially suited to technical things. Also, he was never shy about taking on the roughest and physically most strenuous work. As a dockworker, he pulled his weight. He made no secret of the fact that doing all this was connected to the path which led him through the depths, in order to reach the heights. An old chinese proverb says, 'He who has never been through the swamp, cannot become holy.' There are plenty of reports from among his early compatriots, one of which reached me recently. In it the writer says plainly and simply and without reservation, that having worked with him for a year, he was the best and most decent comrad he ever had, and holds fond memories of him."
Marriage and family misfortunes
He married at 21. However, his wife did not understand him. She wanted to confine him to the narrow role of a respectable family man and dismissed the healings as "vagaries." Both sons, Harald and Günter, born 1931 and 1939, respectively, died at the age of nine. Although countless people had already experienced healing through Bruno Gröning, Gertrud Gröning did not believe in her husband's healing power. She entrusted the children not to him, but rather to the doctors. Traditional medicine was, however, unable to help them. Both boys died in the hospital, Harald in 1940 in Gdansk, and Günter in 1949 in Dillenburg. For Bruno Gröning, these were heavy blows of fate. Years later, when he spoke about his sons, tears still flowed.
The time between the two World Wars was thus preparation for his later work. He had to undergo these bitter experiences in order to appreciate and understand the feelings and the deep need of people in all life situations.
Helping instead of shooting – at the Russian front and as prisoner of war
In World War II, Bruno Gröning was called up to the armed forces in 1943. Here he came into conflict with his military superiors. Because of his refusal to shoot at people, he was threatened with a court martial. In the end however, he was sent to the front anyway. He was wounded, became a Russian prisoner of war and returned to West Germany in 1945 as a refugee.
Bruno Gröning's conduct during the war was dictated by his desire to help. Even at the front, he used every opportunity to help his comrades or the civilian population.
In a Russian village, he was able to arrange for the people, who were dying of starvation, to gain access to the army's food reserves. As a prisoner, he fought for better clothing, better food and better shelter for his fellow prisoners. Innumerable men suffering from starvation edema were helped back to health by Gröning. Amidst the horror of the war, he had killed no one, but helped countless numbers of people.
Marital separation and dedication to humanity
In December of 1945, he was freed and built a new life for himself in Dillenburg in Hessen, where he brought his family. After his second son died and his wife tried to prevent all his charitable activities, he separated from her. He felt compelled to allow the healing power at his disposal to flow to all people. He said, "I don't belong to individuals. I belong to humanity."
Early in 1949, his path led him to the Ruhr District. As a result of the reports of a few healed individuals, increasing numbers of people became aware of Bruno Gröning. He went from house to house, always to where he was needed, where the sick people asked him for help. And so he worked in small circles, until, in March, 1949, he accepted the invitation from an engineer in Herford to visit his son.